DISCOVER OUR FAMILY BUSINESS, CHAMPAGNE DAMIEN-BUFFET'S HOUSE : VISITS AND TASTINGS OF CHAMPAGNE FIRST CRU, WINES SELLING, WINE TOURISM, ANIMATIONS IN OUR VILLAGE OF SACY :
Champagne Damien-Buffet, cellar and welcome 12 Châtillon's street, 51500 Sacy, France, at 8 kms from Reims, a few minutes from train station TGV Reims-Bezannes, at 20 kms from Epernay and in the heart of Naturel Régional Park of Montagne de Reims. Wine growers and wine makers, producers of wines from Champagne, we elaborate a range of wines from Champagne first cru under label "champagnes de vignerons" and some ratafia de Champagne (wine without bubbles for pre diner). Come to discover or buying direct cellar producer. (NB : Hillsides, Houses and Cellars from Champagne are listed on UNESCO World Heritage since july 4, 2015. The RNP of Montagne de Reims is classified exceptionnal forest). Phone : +33 (0)3 26 05 98 17 Cellular phone : +33 (0)6 08 93 66 87
WELCOME AND WINES DIRECT SELLING FROM PRODUCER :

Welcome at DAMIEN-BUFFET's  Champagne House and cellar all year :
From Monday to Friday from 10h30 to 12h30 and from 14h30 to 17h30 each day (for national holidays or special days in middle of week, it'll have some cellar doors opening or animations, look at the blog to know it n details) MIDDLE SEASON (15 march, april, september) each day and for Saturday and Sunday
SUMMER SEASON (july to middle of August) each day and for Saturday and Sunday from 10h30 to 18h00
AUTUMN AND WINTER SEASON (october, november, december, january, february, till March 15) : look at the blog to know the animations and special opening for ex for global Champagne Day (each third Friday of october who we celebrate champagne all around the world, share it through social medias and celebrate or organize an event at Champagne Damien-Buffet's House cellar and in our vineyard and village, the theme change each year
The concept : to propose an original, welcoming and comfortable place to discover and taste our wines from Champagne, and, at the same time, to learn more about the how to do it, our culture and knowledges of Champagne region and wines.
Champagne DAMIEN-BUFFET's House is a family business company. So one or differents members of the family will be there to welcome you and animate the space. We are allways pleased to welcome visitors or wine tourists, hikers, with family or friends on the Champagne road, or coming there with your dogs to discover our special corks caps collection of 12 sighthounds ambassadors on our champagnes wines.
You'll be welcome in the warm atmosphere of our cellar, our private space, or in our courtyard during spring and summer season, or outside for certains wine tourism animations.
3 WAYS TO DISCOVER AND UNDERSTAND OUR CHAMPAGNE'S UNIVERSE :
Discover the House of champagne DAMIEN-BUFFET, our family business, passed on from parents to children since many centuries, who knew how to keep, from generations to generations, the expertise, know how, and add to it new skills, the company and the vineyard farming/cultivation being in perpetual evolution.
Between authenticity and diversity, we propose to let you discover 5 Champagne Wines from our range with differents distinctives colours, sensations :
Commented tasting of 5 Champagne wines : 10,00 € per visitor
Commented visit of cellar and working space, then the tasting : 20€ per visitor (booked a RDV)
Educationnal visit of the vines and vineyard, visit of cellar and working space, commented tasting of 5 Champagne wines : 20€ par personne (booked a RDV)
Tasting price offered, if you buy 6 bottles of 75 cl per person (so 10€ less per person for a card board o wines bought)

Direct selling from producer :
You'll benefit from our advices, after the commented visit you'll feel your preferences during the tasting and you'll be able to shop some accessories and corks caps collections at our small shop at the welcome space
PAY ATTENTION To respect the french law, the tastings are exclusively for adults (more than 18 years old). The alcohol abuse is dangerous for the health, drink responsively.
WINE TOURISM : GROUPS WELCOMING, THEMES ANIMATIONS, SPECIFICAL NEED

Groups welcoming, with visits, tastings of Champagne wines, meal or picnic, pairing between food and champagne, for a journey or a middle journey are between our wine tourism. The activities for groups are only organized after booking date and number of persons and been paid.
Others animations : picnics, hikers and tourists trail between vineyard and forest of regional natural park of Montagne-de-Reims, animations with themes (chocolat and champagne…) : for it, contact us or look at the news on our blog or social medias pages who we publish all year long what we are doing, working in cellar or in vineyard, special animations and so on.
For all specifical needs : need to privatised a room or cellar for company tasting, visits, tastings, prices, booking or other if you need some, contact us. We'll find how to reply to your need and find together a solution with great pleasure.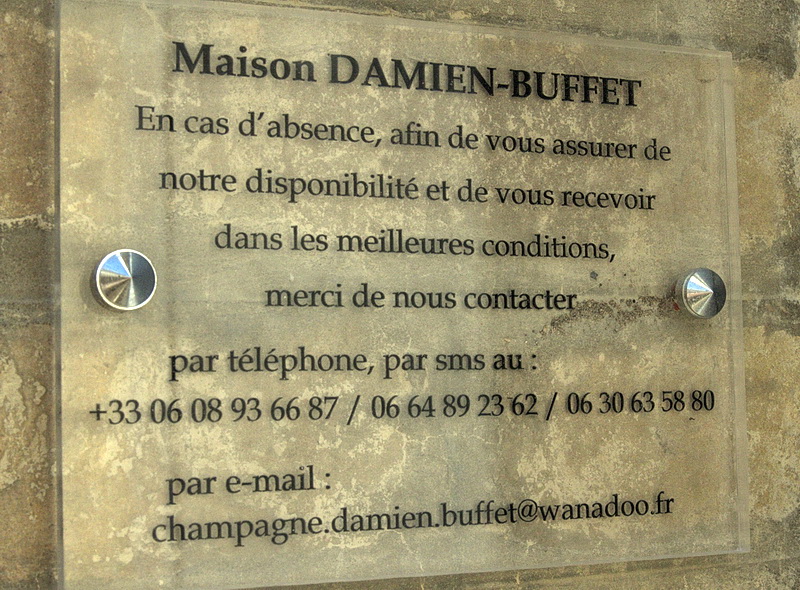 Enregistrer
Enregistrer
Enregistrer
Enregistrer
Enregistrer
Enregistrer
Enregistrer
Enregistrer
Enregistrer
Enregistrer
Enregistrer
Enregistrer
Enregistrer