CHAMPAGNES DAMIEN-BUFFET IN SACY, VILLAGE CLASSIFIED PREMIER CRU
It is in Sacy, typical village of Champagne, classified 1st cru, in the heart of the Regional park of Reims' Hillside ("Montagne de Reims" in french), that we cultivate our vineyard, and vines, with passion and rigour.
We develop our Champagne in respect with traditions, with patience and talent. Our Champagnes are the result of a sucessful union between nature and human know-how.
We invite you to discover the  range of exceptional champagnes, entirely give to seduction :
Damien-Buffet champagne Brut Tradition :
Made from a blend of 45% Pinot Noir, 45% Pinot Meunier and 10% Chardonnay, this Brut champagne is typical of our terroir. This combination of grapes makes a winning trio with different characters. This Brut is bright and elegant, with a powerful and fruity nose, complex red fruit aromas due to the predominance of pinot meunier, and equally floral and white fruit notes from chardonnay. Fruity, yet still resoundingly fresh, highly aerated with fine bubbles, the length on the palate of this champagne reveals the taste of the terroir.
Rich with aromas, Its generosity seduces all enthusiasts, a Champagne for every occasion !
Damien-Buffet champagne Demi-Sec Tradition :
An identical blend to the Brut Tradition (45% pinot noir et 45% pinot meunier, 10% chardonnay) , the Demi-Sec is a little sweeter "dose" !
The disgorgement for each cuvee is the last stage in the winemaking process, where the wine-maker intervenes by adding a small quantity of liqueur (sugar and older Champagne). With its sweeter flavour this champagne finds its rightful place on the table alongside desserts, with dry gateaux or… with foie gras. A pale yellow coloured wine, very fine foam and a great persistence of flavour. It is strong on the palate, with a beautiful roundness.
Its power and smoothness delights those with a sweet tooth !
Damien-Buffet champagne Brut Réserve :
A balanced and handsome Champagne Brut Reserve is a refined cuvee…
The Brut Reserve is a refined cuvee. This champagne, unparalleled in its seductiveness and full of charm, with its sparkling, deep golden colour and fine foam, lightness and delicate nature, whose complexity and finesse of aromas of red fruits, and white and yellow confits fruit leads to great subtlety. Carefully made from a blend of three grape varieties from three vintages : pinot noir, pinot meunier and 30% chardonnay, the variety which brings elegance and finesse, whose slow evolution makes it an ideal addition for the ageing of this wine. .
This subtle cuvée is perfect for an aperitif and for important occasions !
Damien-Buffet champagne Brut Rosé :
Softness and charm…
Combining harmony and originality, this brut rose champagne has a delicate and light colour with variations of pink salmon and copper. It intoxicates us and makes us want to crunch into fruit, the same crunching sensation that we get when we taste it. It reveals an incomparable bouquet, an active fizz, a slightly acidic taste, fresh and tender at the same time. Its flavours develop and last in the mouth, offering a silky texture, a warm character, a fine and creamy foam – unarguably good !
A champagne for aperitifs, light meals, afternoons or desserts !
Damien-Buffet champagne Brut Blancs de Noirs :
Seduces connoisseurs and enthusiasts searching for authenticity…
This special cuvee is produced from the blend of two grape varieties – black skinned with white juice – from three vintages. Pinot noir, powerful, structured and well-formed, is the body and the power in this wine. It gives this champagne raspberry, gooseberry or strawberry aromas. Pinot meunier, respected for its roundness and fruitiness, leads to apple and pear aromas. This cuvee, with its powerful and solid structure is original and elegant, but at the same time, flavoursome and fruity. Offering a varied aromatic palette and a tasty personality, food enthusiasts can also drink this champagne as a Grand Vin with a meal.
Loved at every occasion !
Damien-Buffet champagne Brut Blanc de Blancs
Refined elegance…
The blanc de blancs champagne is a charming cuvee with great aromatic intensity, made exclusively from chardonnay, the only white grape variety in Champagne. A luminous, pale-golden colour characterised by its freshness on the palette and its elegant, intensely fruity nose. Citrus and exotic fruit notes bloom, followed by touches of white flowers and fleshy fruits. This champagne blends three exceptional vintages, giving it balance and maturity. "An open wine," precise and clean, it develops flexibility and roundness in the mouth.
A nice Champagne for aperitif !
Damien-Buffet champagne Brut Prestige
Developed slowly with distinction…
Full of joy and sparkling with character, the jewel in our crown, meticulously made, dominated by 61% chardonnay, balanced by 23% pinot noir and 16% pinot meunier, with a very pure light yellow colour. This cuvée Prestige combines delicate bubbles, a fineness and firmness, liveliness, profound elegance and assertiveness without aggression, all in the most beautiful harmony ! It is a Champagne of the highest quality, which subtly merges floral and summer fruit aromas, with liveliness and finesse on the palette. An exceptional champagne.
It's a Champagne with extraordinary characteristics !
Damien-Buffet champagne Elixir's cuvee
L'élixir ou lorsque le beau rejoint le bon dans cette dernière cuvée de notre Maison.
Une cuvée hors du commun pour cet assemblage mi chardonnay, mi pinot noir, vinifié et élevé en fût de chêne. Un mariage subtil et harmonieux du champagne, du bois, du savoir-faire et du talent pour ce vin d'une belle fraîcheur qui présente un final riche et rond. Il s'agit d'une édition limitée par année et numérotée !
Une très belle cuvée, dans un très joli flacon niché dans un très bel écrin.
Éditée à 250 exemplaires par an, la cuvée Élixir est à découvrir ou à offrir !
Damien-Buffet house of champagne – Ratafia :
Ratafia is made from non-fermented grape juice, to which eau de vive de marc is added in order to stop fermentation.
Ratafia is a delicate aperitif with a beautiful amber hue and a confit fruit and sour bonbon aroma. Ratafia goes wonderfully with starters and deserts.
An unusual blend of flavours, yet delightfully indulgent as an accompaniment for melon, smoked ham, poultry terrine, fried foie gras, blue cheese or parsley pasta. It can be included in sauces or during cooking due to its richness of flavour. It also goes very well with chocolate desserts.
Beautiful, seductive, it is loved for its indulgent smoothness and mellowness !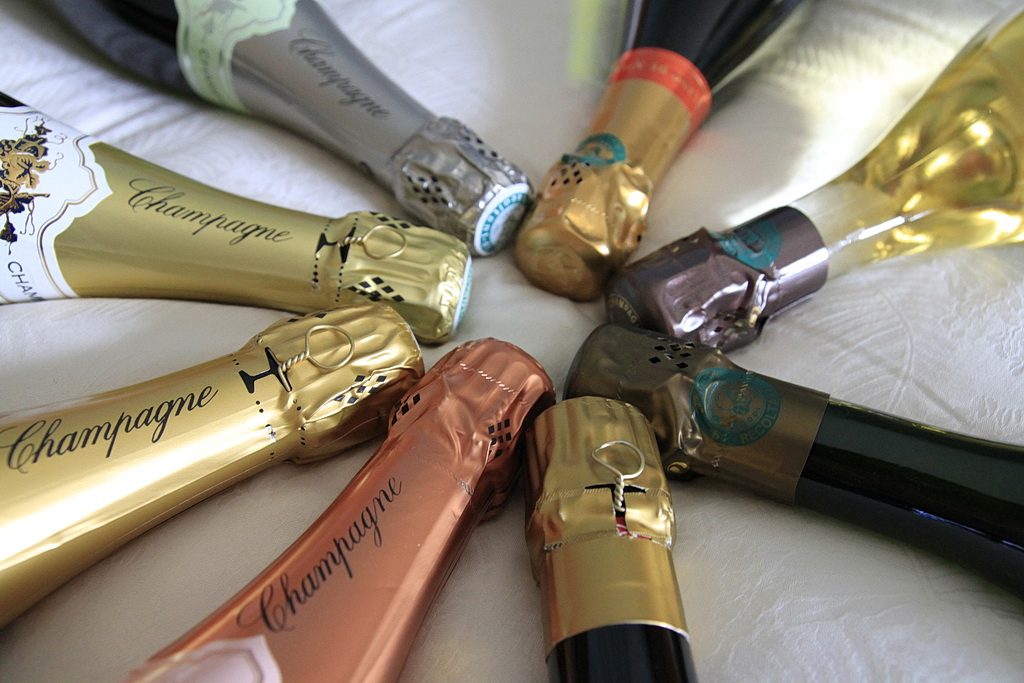 NB : Link to print or save the details of our range of champagnes
Prices July 2017 (Prices including all taxes, transport not included, depending on the stock) :
Classicals cuvees Damien-Buffet, Sacy Premier Cru:

Champagne Damien-Buffet – Brut Tradition 16,40 € the 75 cl bottle
Champagne Damien-Buffet – Demi-Sec Tradition 16,80 € the 75 cl bottle
Champagne Damien-Buffet – Brut Réserve 10,95 € 1/2 bottle and 38,95 € magnum (=2 bottles), Jéroboam (= 4 bottles) 110 €, Mathusalem (= 8 bottles) 235 €
Champagne Damien-Buffet – Brut Rosé 17,95 € the 75 cl bottle, 39,00 € magnum size
House of Champagne Damien-Buffet – Ratafia Champenois 13,80 € standard bottle of 70cl and Ratafia Champenois of 70cl 22,00 € in a prestige carafe with a glass cork in a beautiful box

Exceptional Cuvees Damien-Buffet, Sacy 1st Cru

Champagne Damien-Buffet – Brut Blanc de Noirs (50% Pinot Noir – 50% Pinot Meunier) 17,95 € the 75 cl bottle
Champagne Damien-Buffet – Brut Blancs de Blancs (100% Chardonnay) 19,90 € the 75 cl bottle
Champagne Damien-Buffet – Prestige Cuvee (60% Chardonnay – 30% Pinot Noir – 10% Pinot Meunier) 21,20 € the 75 cl bottle
Champagne Damien-Buffet – Prestige Cuvee Millésime (=Vintage) (60% Chardonnay – 26% Pinot Noir – 14% Pinot Meunier) 55,00€ the bottle magnum size
Champagne Damien-Buffet – L'Elixir (50% Chardonnay – 50% Pinot Noir). Elaborated in oak barrel from the same grapes Harvest. Limitated and numerotated to 250 copies / year. Bottle sold in her packaging. 45,00€, same bottle without the special black, red and gold packaging 35 €

Cardboard box for discovering :

Assortment of 6 bottles of champagnes Damien-Buffet : Tradition, Demi-sec, Rosé, Blanc de Noirs, Blanc de Blancs, Cuvée Prestige 110,20 €
Mix possible – Look at the price of each bottle.
Brut Réserve : Jéroboam 110,00 € (bottle size = 4 bottles of 75 cl), Mathusalem 235,00 € (8 bottles),  Salmanazar 365,00 € (12 bottles) are availiable on reservation.
NB : Our prices are for direct delivery at Damien-Buffet Champagne House winery, 12 Châtillon's street in 51500 Sacy, France. To know more details of prices, transport or other, go to the special page page dedicated to conditions of selling on the website
TREAT ALCOHOL RESPONSIBLY – THINK OF YOUR HEALTH – DRINK SENSIBLY
La consommation de boissons alcoolisées pendant la grossesse, même en faible quantité, peut avoir des conséquences graves sur la santé de l'enfant.
Référez vous au repères 2340 pour une consommation d'alcool responsable
NB : Toute vente d'alcool est interdite aux mineurs en France, aussi cette partie du site est-elle réservée aux personnes majeures.
Enregistrer
Enregistrer
Enregistrer
Enregistrer
Enregistrer