ON CHAMPAGNE'S TOURISTIC ROAD, DURING ROUTE, DESTINATION, TOUR, TRIP, RIDE, OR WALK, HARVEST, FIND A WINERY, A PRODUCER OPENING CELLAR'S DOOR

MEET WELCOMING WINEMAKERS AND COME BACK FULL OF BUBBLES OF HAPPINESS FROM SACY 1st cru
What can be done, funny, interesting, educational, during week-ends, national holidays or harvest time, in Champagne region in Montagne de Reims ?
Champagne DAMIEN-BUFFET  house let you know the news dates of open doors at the cellar of the winery during week-ends and national holidays for end of June to September 2017 :
Véronique and Henry Damien, or a member of the family, welcome you, the week-ends, for open doors and cellar visit and tasting, selling champagne at door prices, and also during harvest time, in Sacy (8 kms from Reims, not so far from Epernay, in the heart of Regional Natural Park of Montagne de Reims), on Champagne's touristic road.
It's an occasion to discover the winemakers (vignerons) world in family business and the renovated spaces cellar, courtyard and rooms, for warmly welcoming for tourists reception quality service better than ever.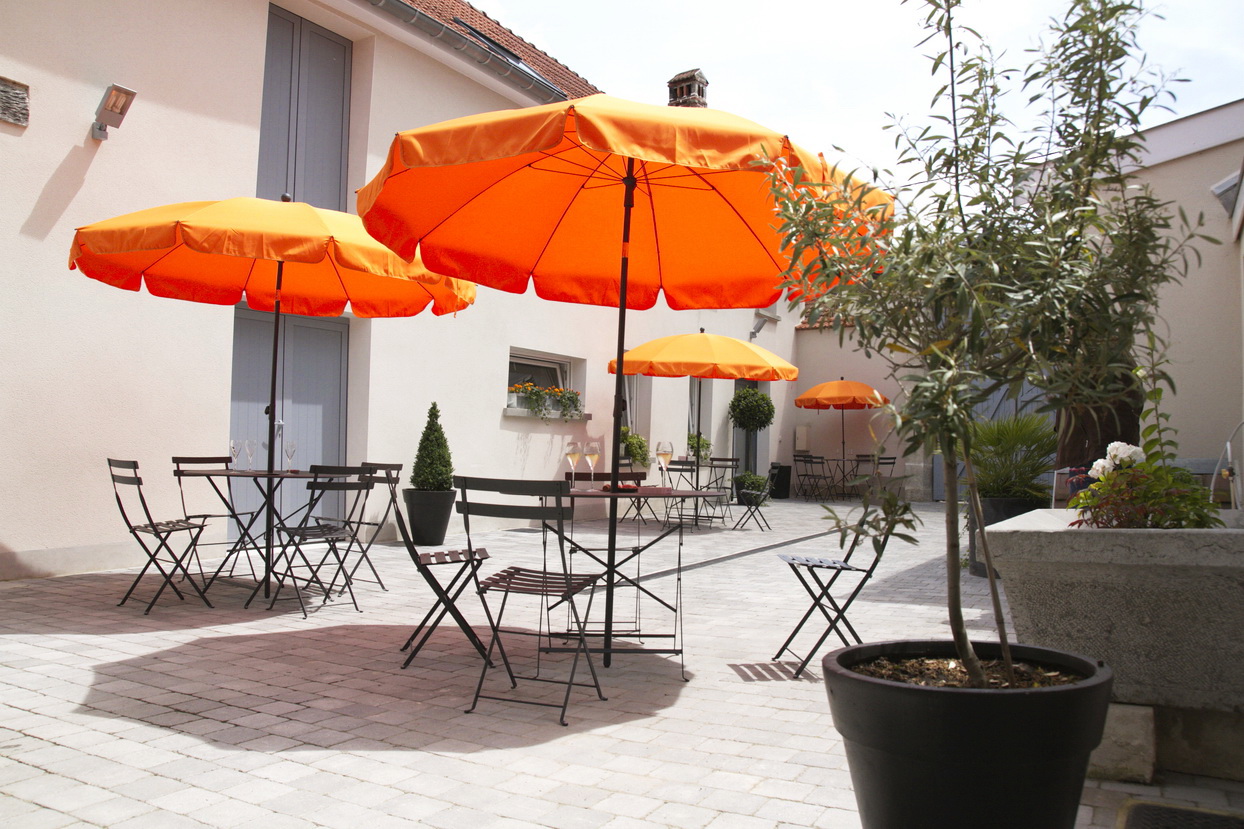 For the next WE, look at the other articles of our blog or for the opening hours, look at the page for all year long welcoming.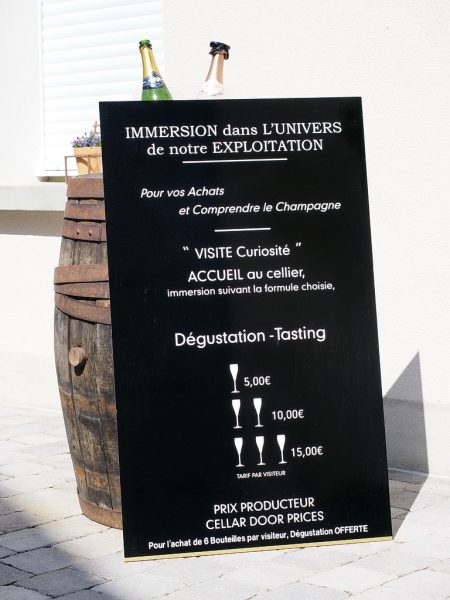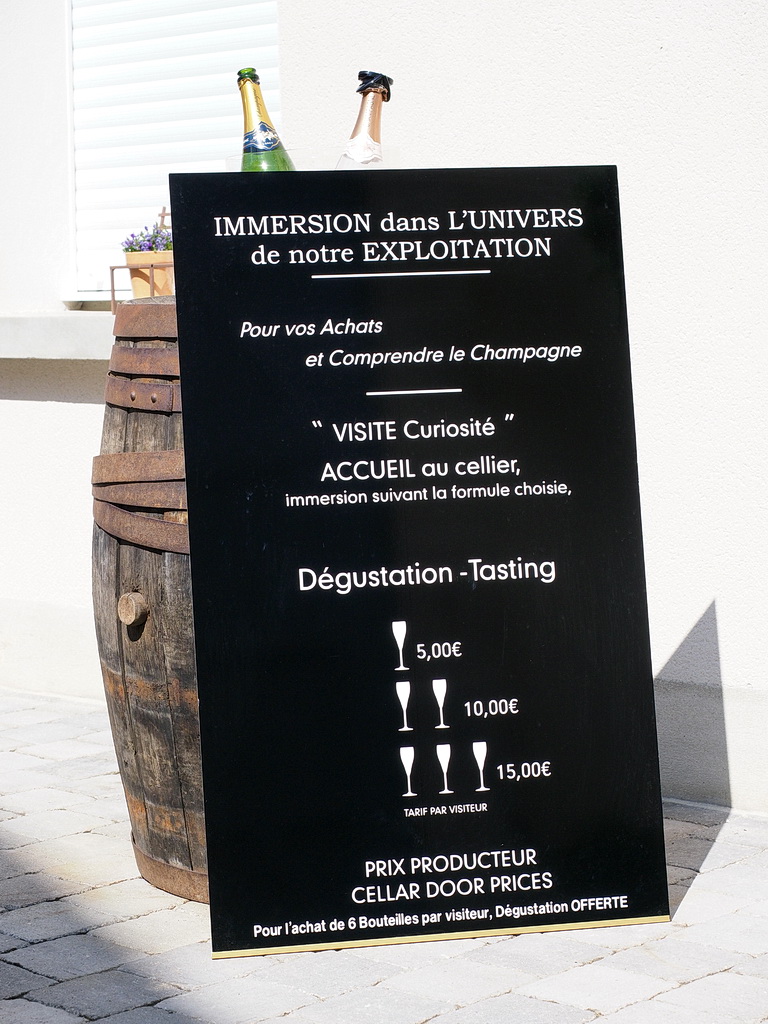 FOR JUNE, JULY, COMMENTATED TASTING AT THE WINERY AND CELLAR DOOR PRICES : 12 rue de Châtillon 51500 Sacy, France :
Saturday 24 & Sunday 25/6/2017 : open from 10h00 to 12h30 and from 14h30 to 18h30
Saturday 1/7/2017 : open from 10h00 to 12h30 and from 14h30 to 18h30

Saturday 8 & Sunday 9/7/2017 : open from 10h00 to 12h30 and from 14h30 to 18h30

Vendredi 14/7/2017 : open from 10h00 to 12h30 and from 14h30 to 18h30

Saturday 15/7 & Sunday 16/7 : open from 10h00 to 12h30 and from 14h30 to 18h30
FOR AUGUST AND SEPTEMBER, COMMENTATED TASTING AT THE WINERY ETC :
Samedi  : ouverture de 10h00 à 12h30 et de 14h30 à 18h30
Dimanche  : ouverture de 10h00 à 12h30 et de 14h30 à 17h00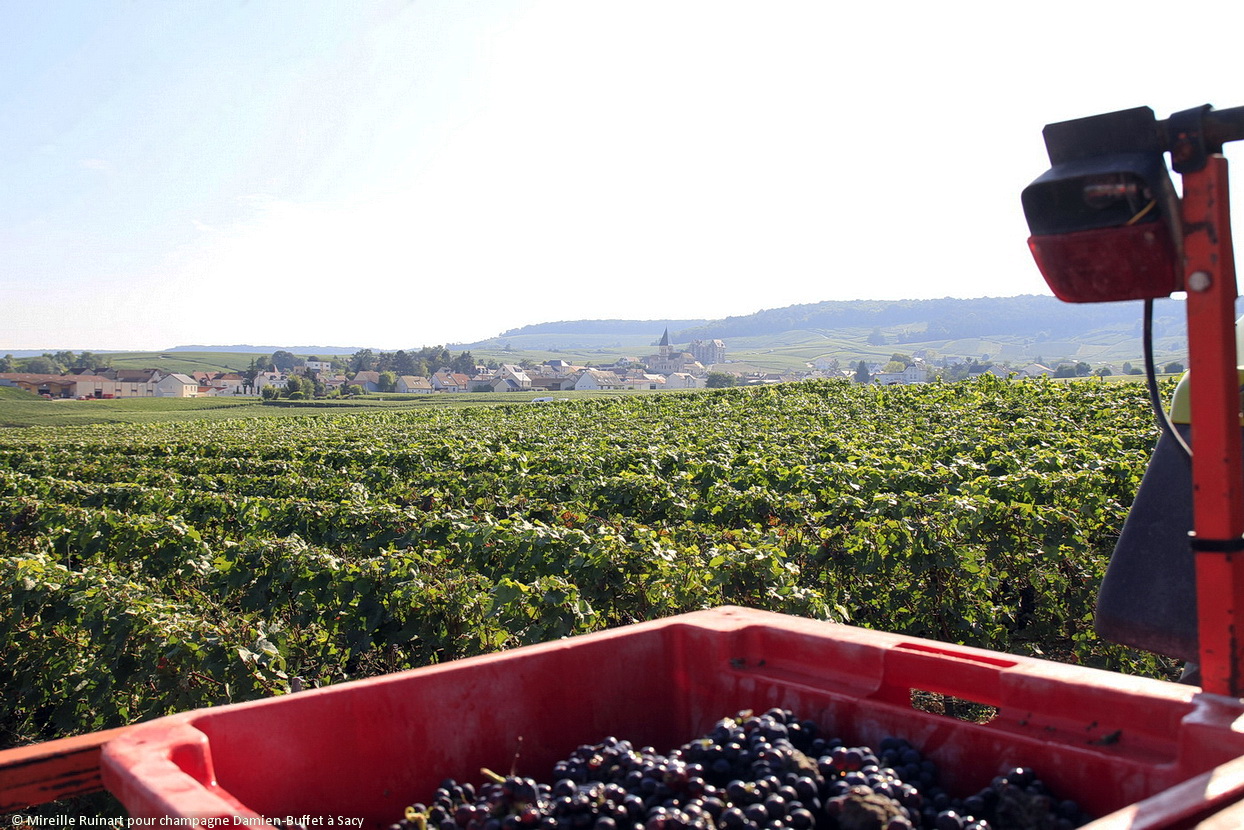 Spend nice week-ends, whether it be for a stop for an aperitif, a snack, a visit at the winery guided with the winemaker, on the Norman churches architecture trip, during a walk or with a bicycle, moutain bile, a circle trip in Marne department in Montagne de Reims with your family, with a lot of bubbles of happiness to share !
DURING HARVEST TIME IN SEPTEMBER 2017 AT DAMIEN-BUFFET WINERY IN SACY :
During harvest it's open for tasting : from 9h30 to 11h30 and from 14h30 to 17h30
For groups or be able to see the details of the harvest with the workers in the vineyard and at the cooperative, who, how, when , ask to Véronique Damien on +33 (0)6 08 93 66 87 or email at the winery through contact form to book it as earlier as possible to be welcome as better as possible, thanks !  🙂
Global Champagne Day (Journée Mondiale du Champagne) on 20/10/2017 :
Have a look to those 12 great ambassadors (whippets, greyhounds, galgos) who show the place of the sighthounds, loyal, elegants, raced, royal, in History since siecles. We hope it'll be for the great pleasure of collectors, dogs lovers, people interested in History, Heritage and culture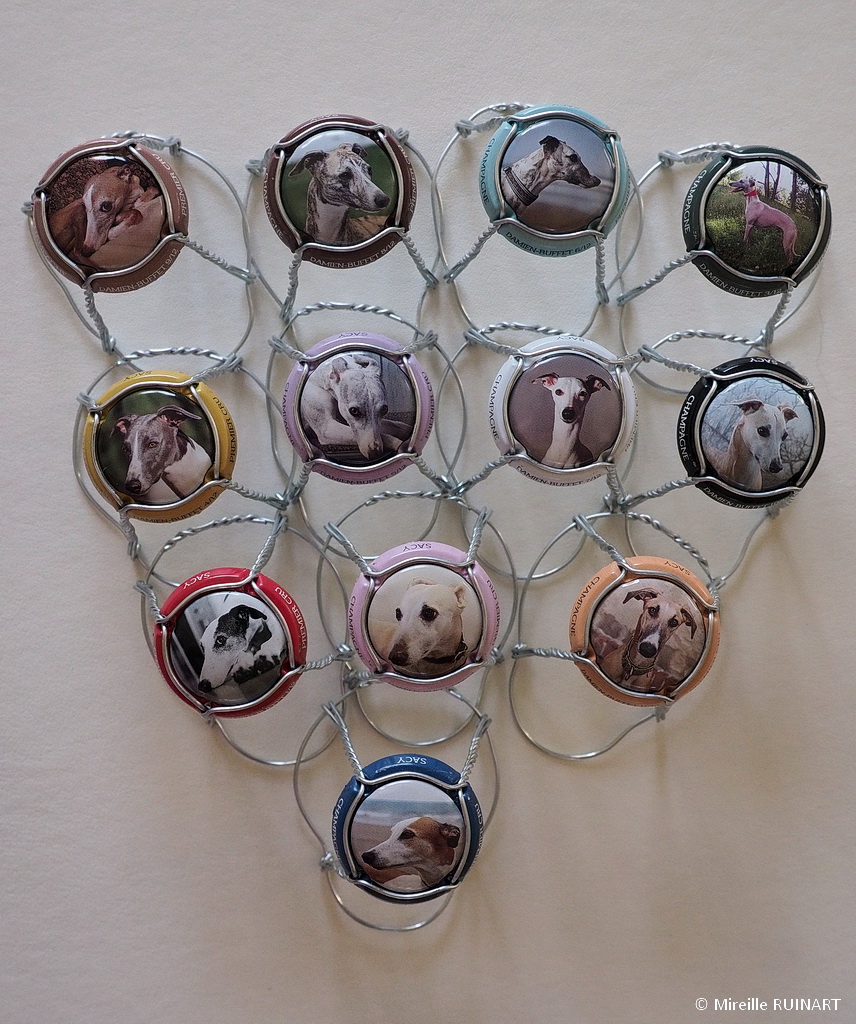 (Only the cuvee L'élixir, limited edition don't have those caps)
If you are searching to know more about the possibilities of roads or rides on terroir of Sacy in the heart of  Regional Natural Park, RDV for reading the blog article who'll give you good plans and discoveries on champagne's touristic road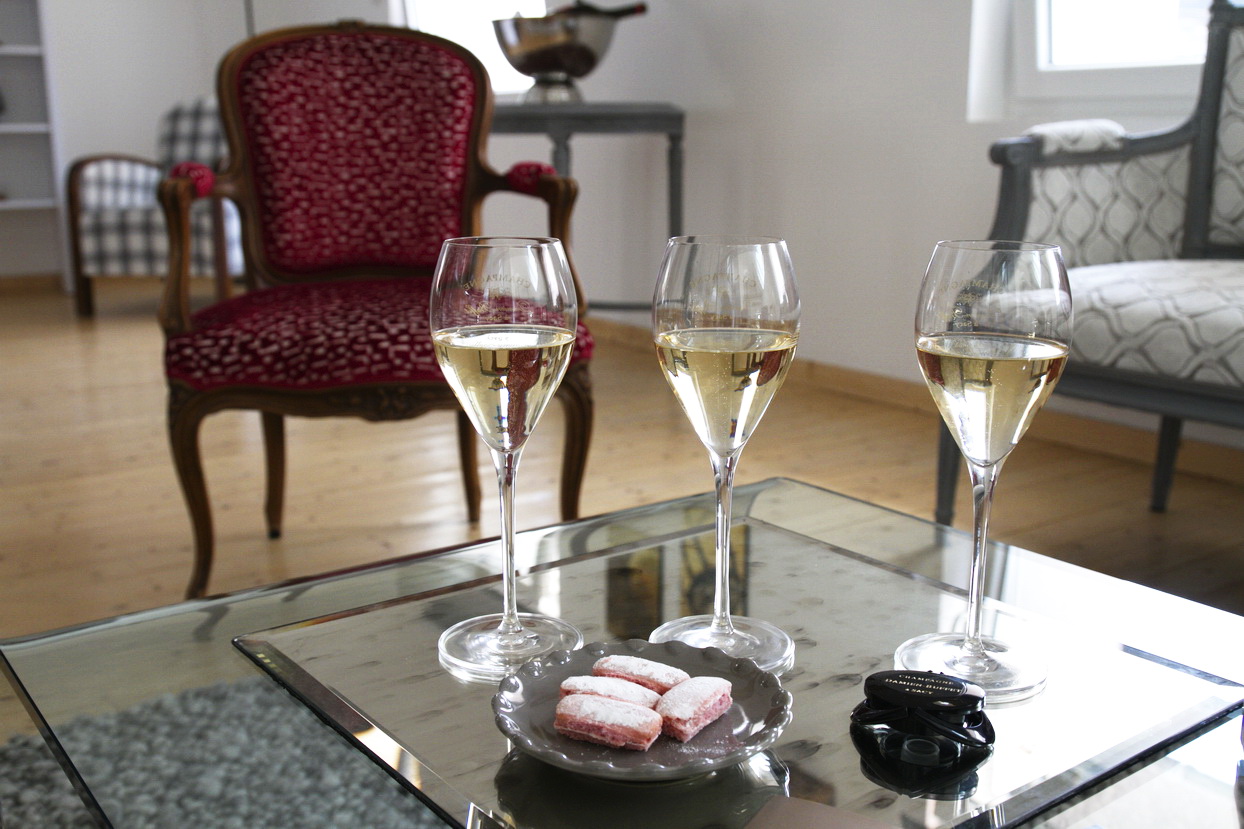 If you cannot go here, you can buy our quality champagnes de vignerons at good prices.
Order your champagnes bottles by clicking on this link and sending the order form to champagne Damien-Buffet House in return by mail.
If you want to visit us, we welcome individuals and groups during all the year. We propose differents services and welcome examples : for a discovery of the terroir and of the cellar of the winery, the work in the vineyards and vines, the work to produce grapes, juices, wines of champagne, Champagne Damien-Buffet wines tasting, during a day for a group.
But it's better and easier if you ask before coming, especially when you want a complete visit. Call or email before please, like that we'll be able to keep a high quality welcome all the time.
Our winetourism activities and the other dates and events are noticed on the blog part of the website and will be relay on our social medias pages.
Véronique & Henry DAMIEN
Cellar and welcome of Champagne DAMIEN-BUFFET house
12 Châtillon's streeet
51500 Sacy, France
Phone or SMS : +33 (0)3 26 05 98 17 ou +33 6 08 93 66 87
Email : champagne.damien.buffet(at)wanadoo.fr
https://www.facebook.com/ChampagneDamienBuffet/
https://twitter.com/champagnedbsacy
https://fr.pinterest.com/ChampagneDBSacy/
https://www.youtube.com/channel/UCp2FDviR1tsk7YxOaAItWVg?disable_polymer=true
Enregistrer
Enregistrer
Enregistrer
Enregistrer
Enregistrer
Enregistrer
Enregistrer
Enregistrer
Enregistrer
Enregistrer
Enregistrer
Enregistrer
Enregistrer
Enregistrer
Enregistrer
Enregistrer
Enregistrer
Enregistrer
Enregistrer
Enregistrer
Enregistrer
Enregistrer
Enregistrer
Enregistrer
Enregistrer