Champagne DAMIEN-BUFFET family celebrated Patron Saint of vignerons, wine-makers in Sacy on February 21.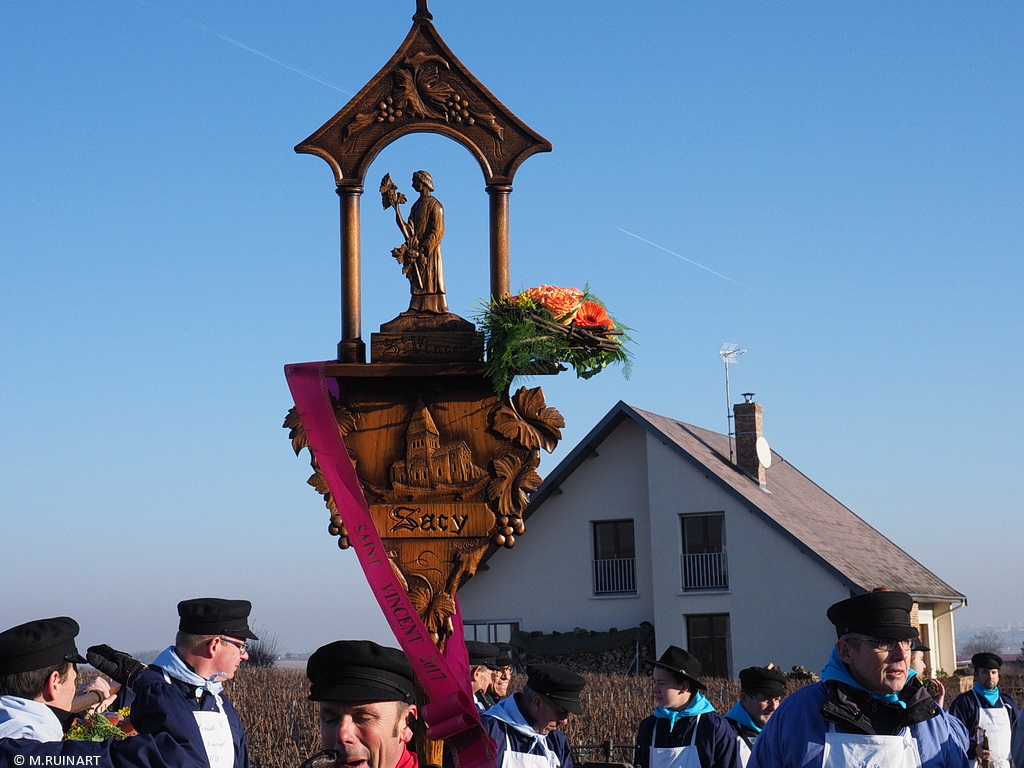 Long life to Saint-Vincent and wine-growing traditions !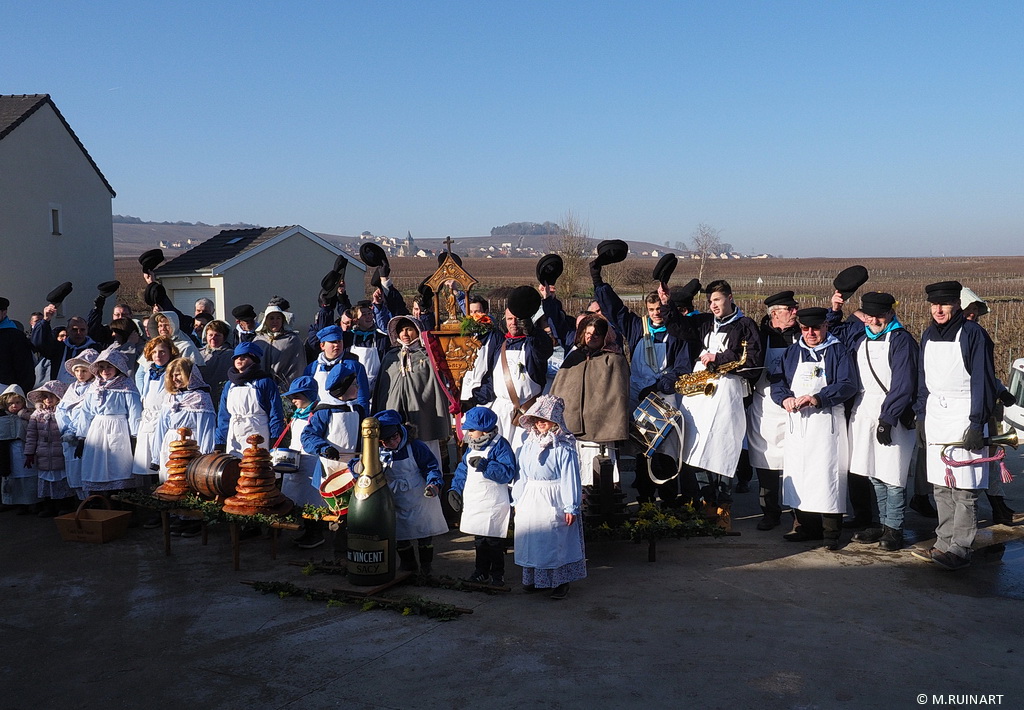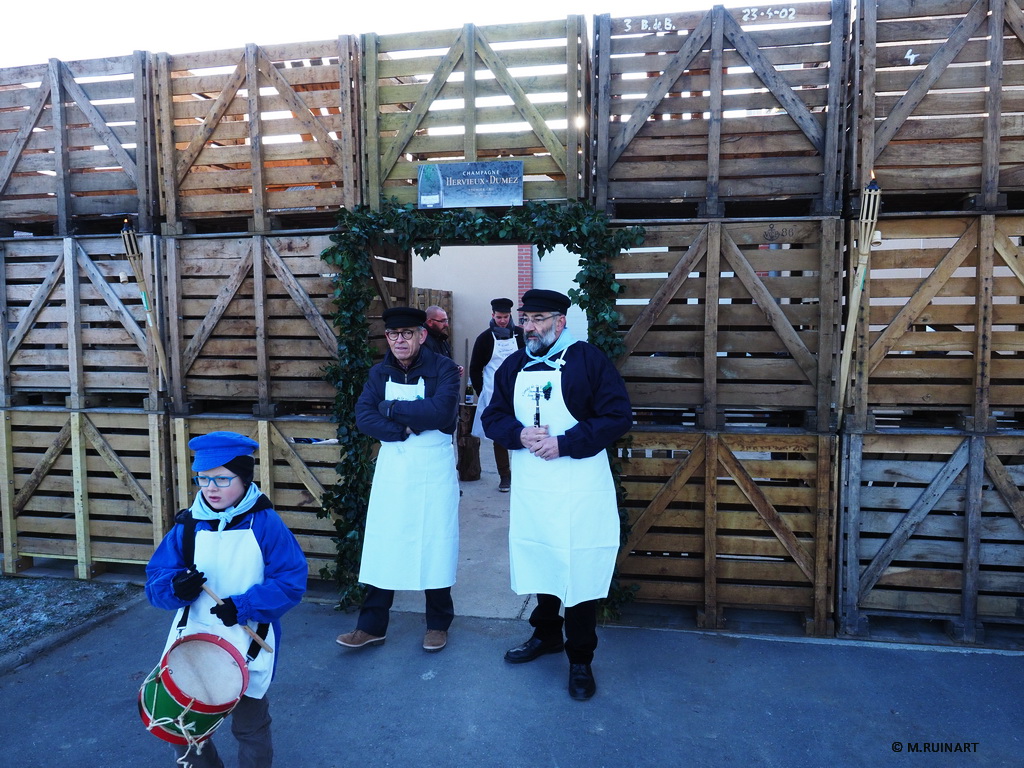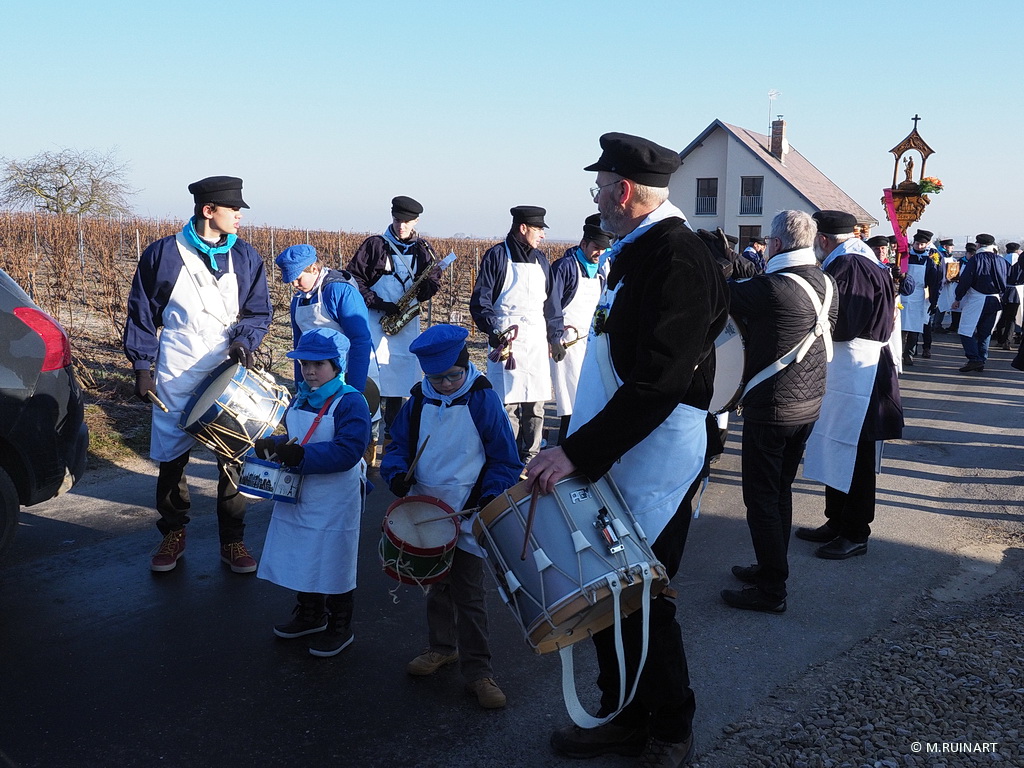 It's in Champagne's region that you can find the village of Sacy, on the touristic road of the champagne. Sacy is between the villages classified first cru of Champagne, he is situated at a few ks from Reims, in the heart of Natural Regional Parc of Montagne de Reims, this forest is labellise exceptionnal forest.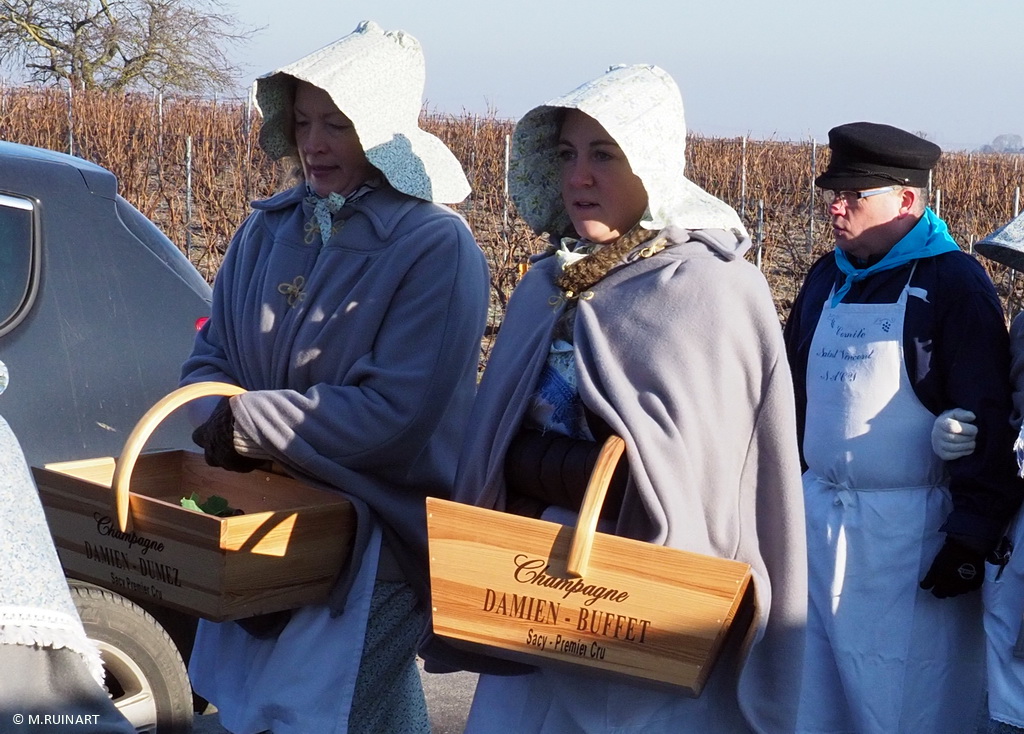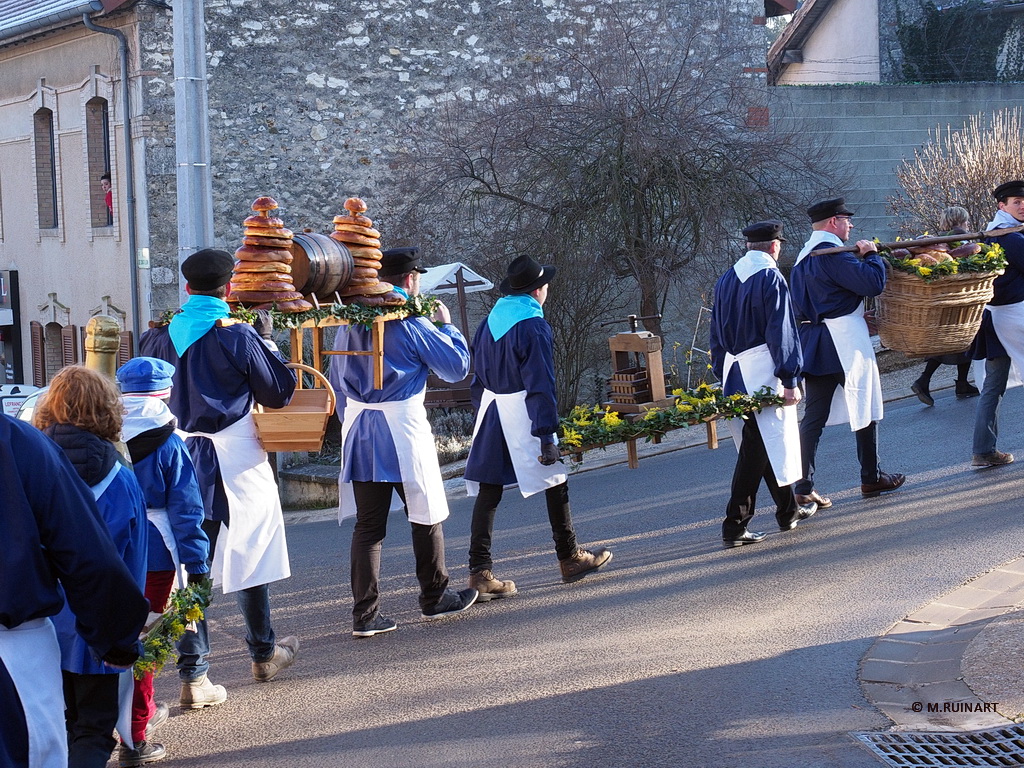 Since 4/7/2015, the 320 cities and villages of 'AOC Champagne move and do things to be worthy of World Heritage inscription by Unesco judges with Hillsides, Houses and Cellars of Champagne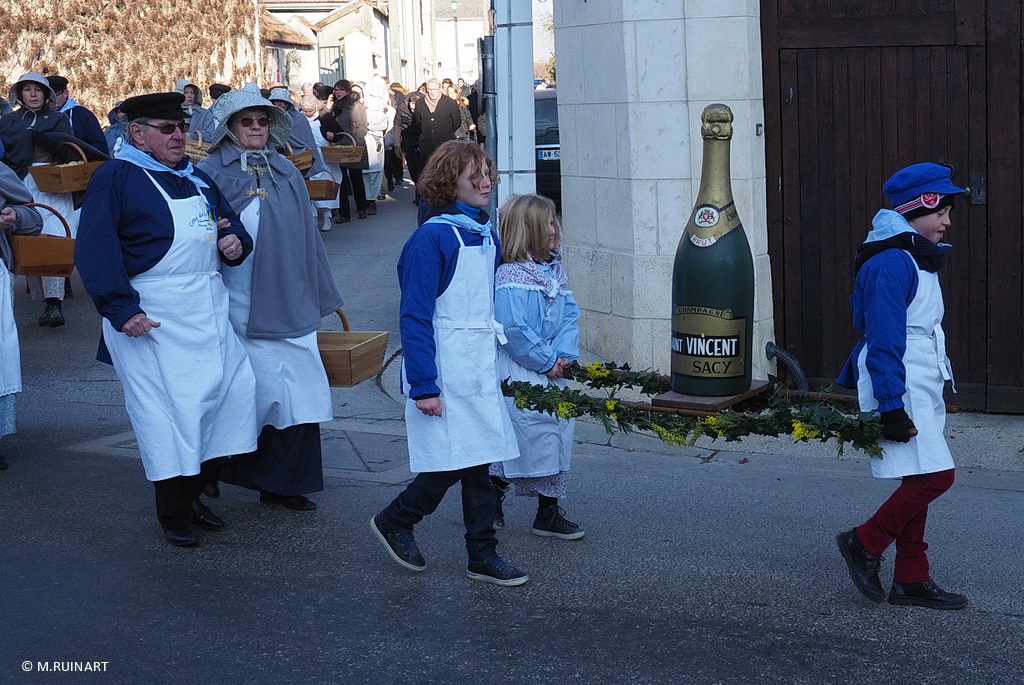 So it's more important yet to maintain and let people know and share our traditions and terroirs of Champagne.
Saint-Vincent celebration is one of the most importants of the tradition in Champagne and in all the vineyards of France, Each Sunday around January 22 janvier the wine-growers, wine-makers, honoure their Patron Saint. They organize a celebration by village, et invite all want to discover and share this moment around wineproducers, vineyards, terroirs, and wines of Champagne.
21/2/2017 in Sacy beginning of the celebration by a glass all together and starting the procession from the house of the man who wear the stick to the church.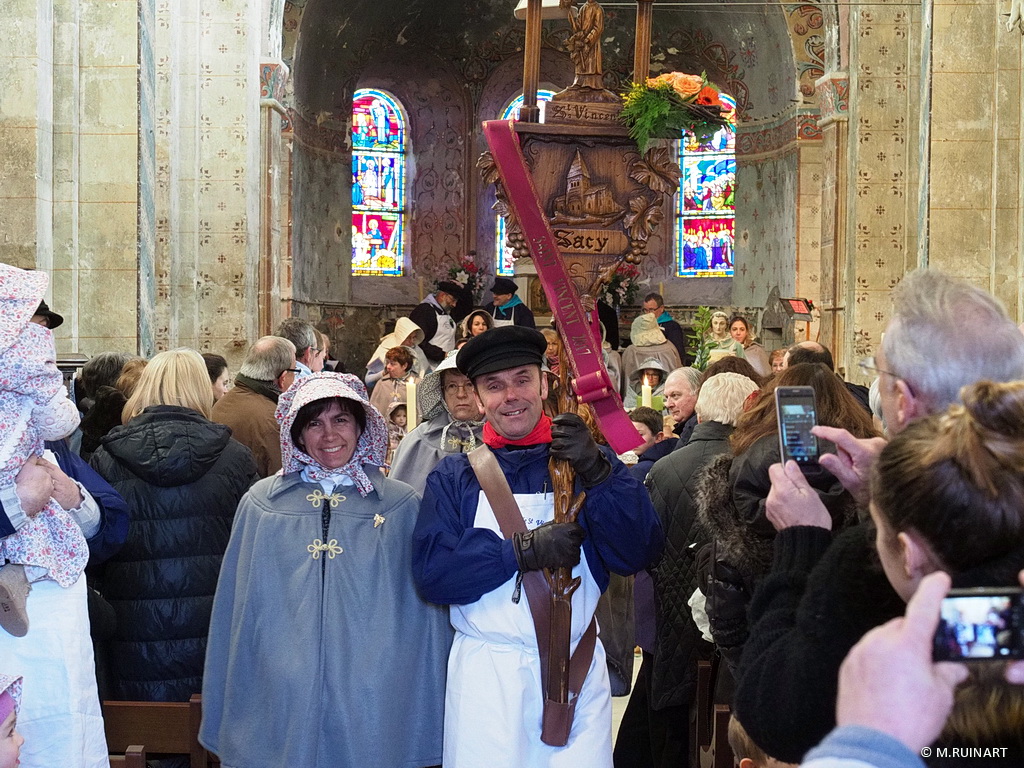 The church Saint-Rémy of Sacy has been built around XII siecle Romanesque fortified architecture. She is listed historical monument since 10/12/1919. She is a top of the hill in the village. So the procession of the winegrowers and their children costumed, carrying the symbols of the vine, the press, the barrel, the breads, and the stick in front of it, stick symbol of the guild, walking with music had to climb the hill to access to the church.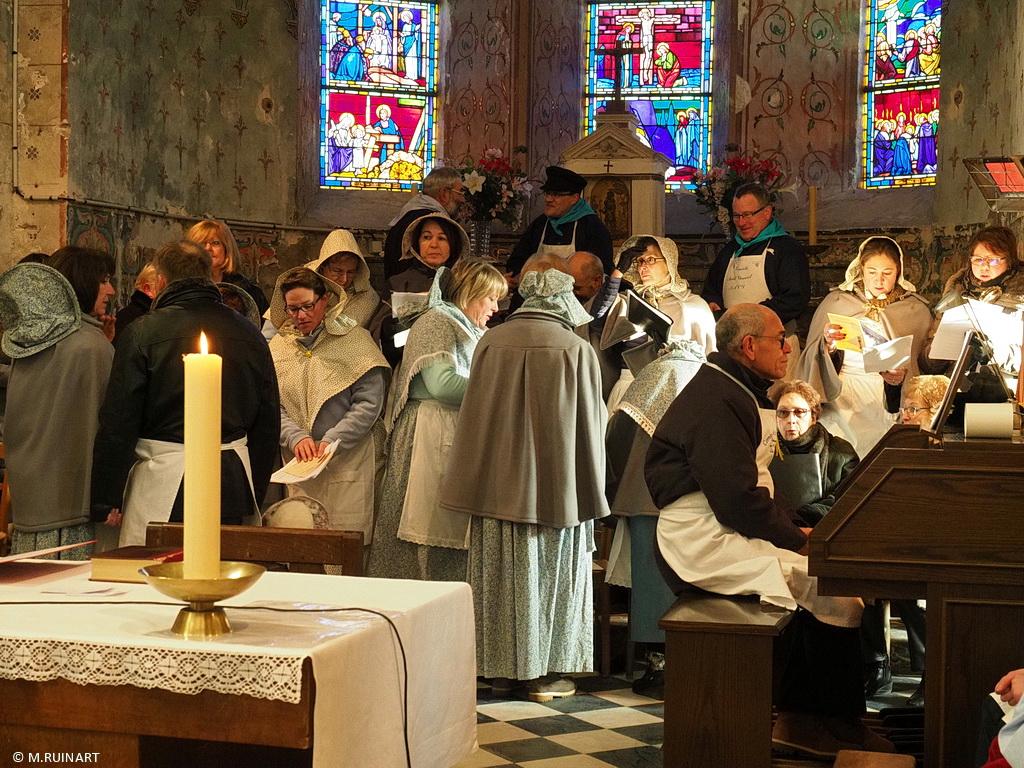 During the Mass, the priest bless the symbols of the vine, the bread and the wine and also all the people who are there and by thoughts all the winegrowers and winemakers. Each pray to have a good year, to nourrish their children and help the vines to grow in good health and give a good harvest grapes at the next harvesting Autumn.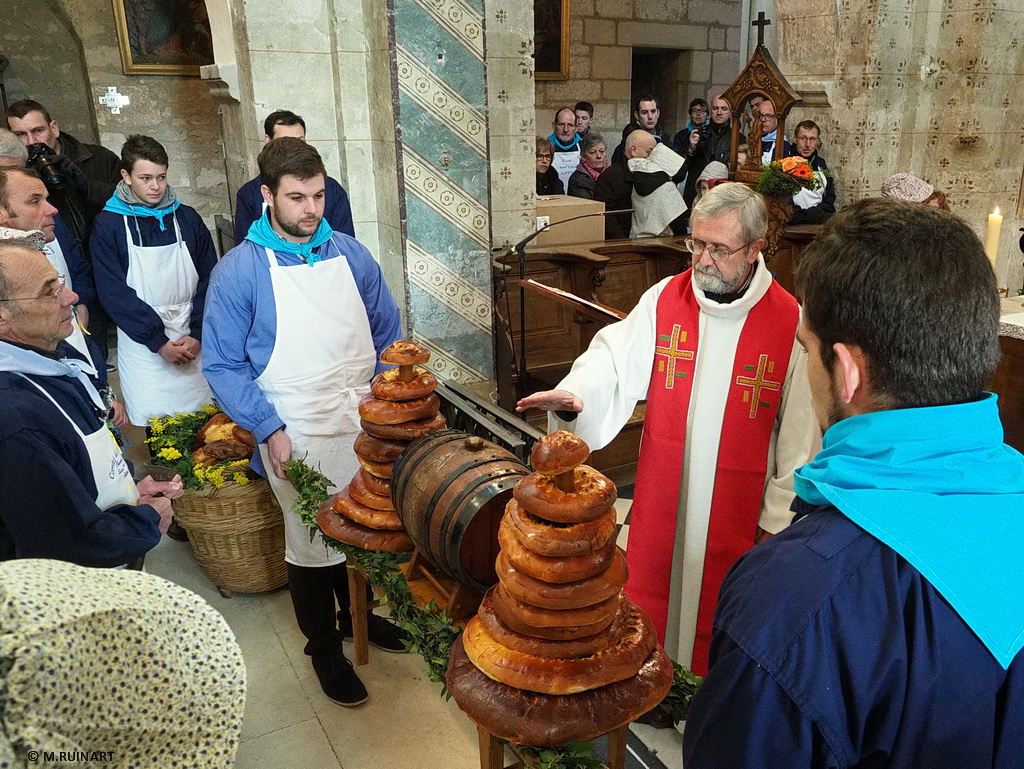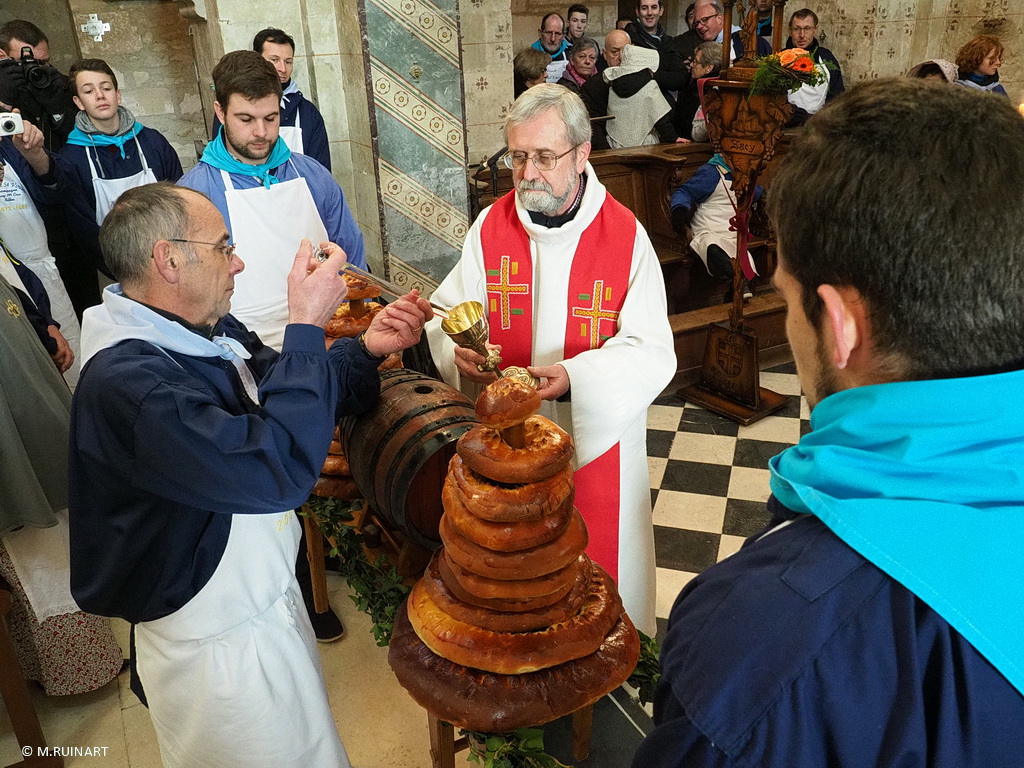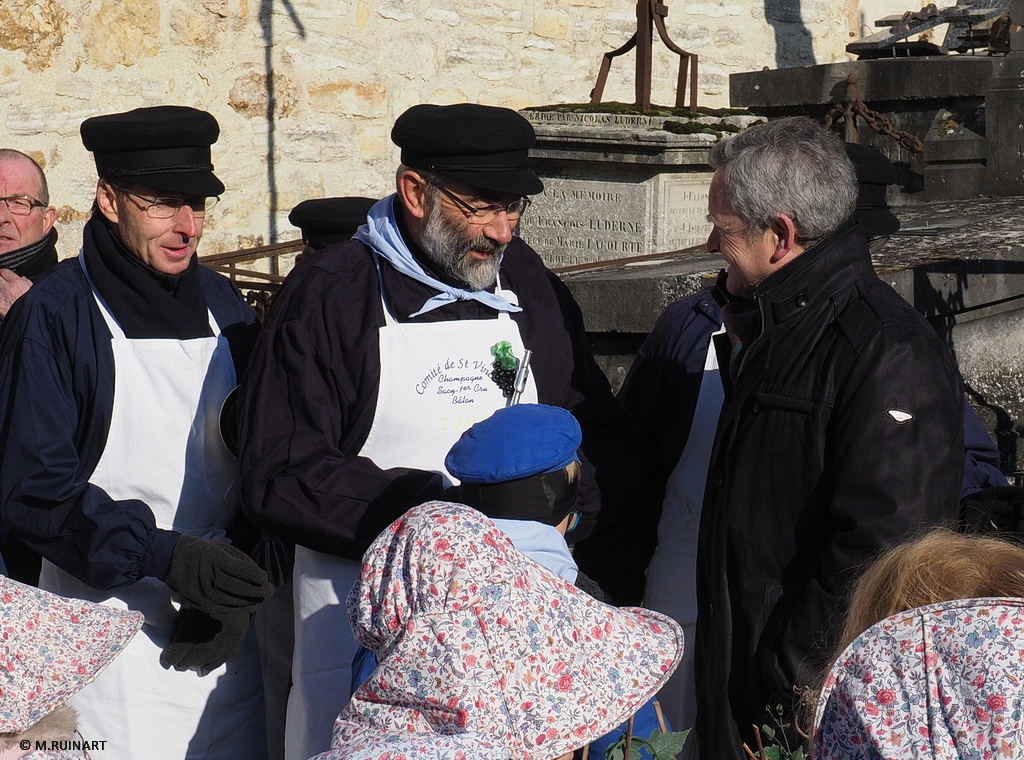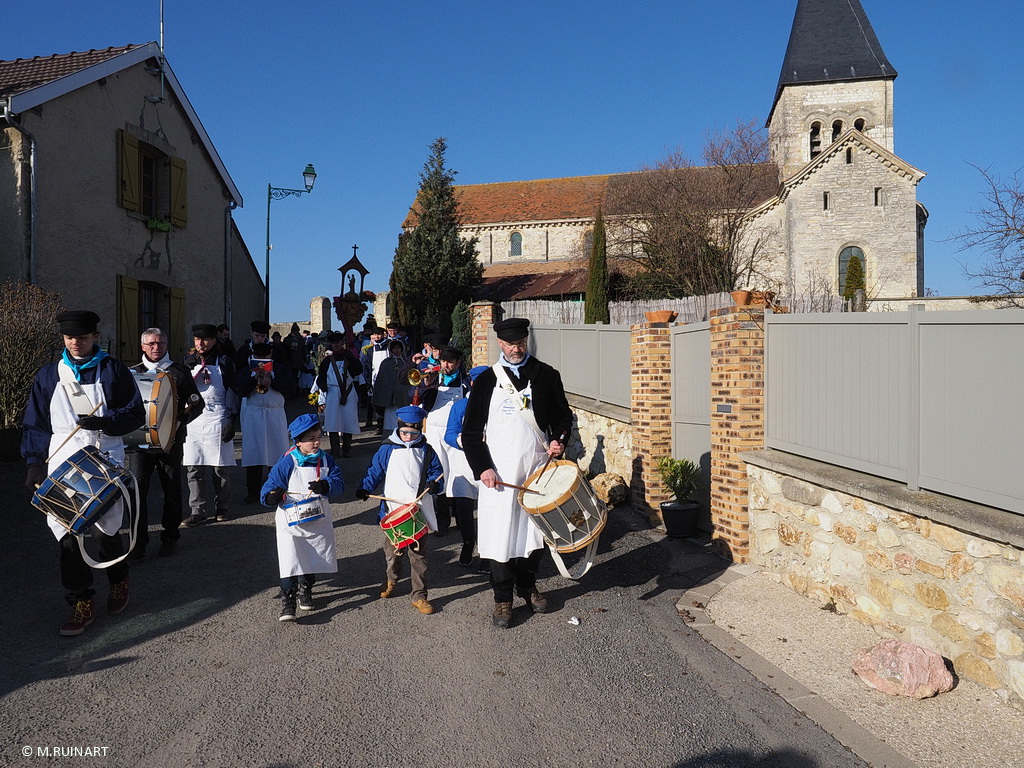 Start from the church of Sacy, this time by Châtillon's street to arrive to the cooperative of the village.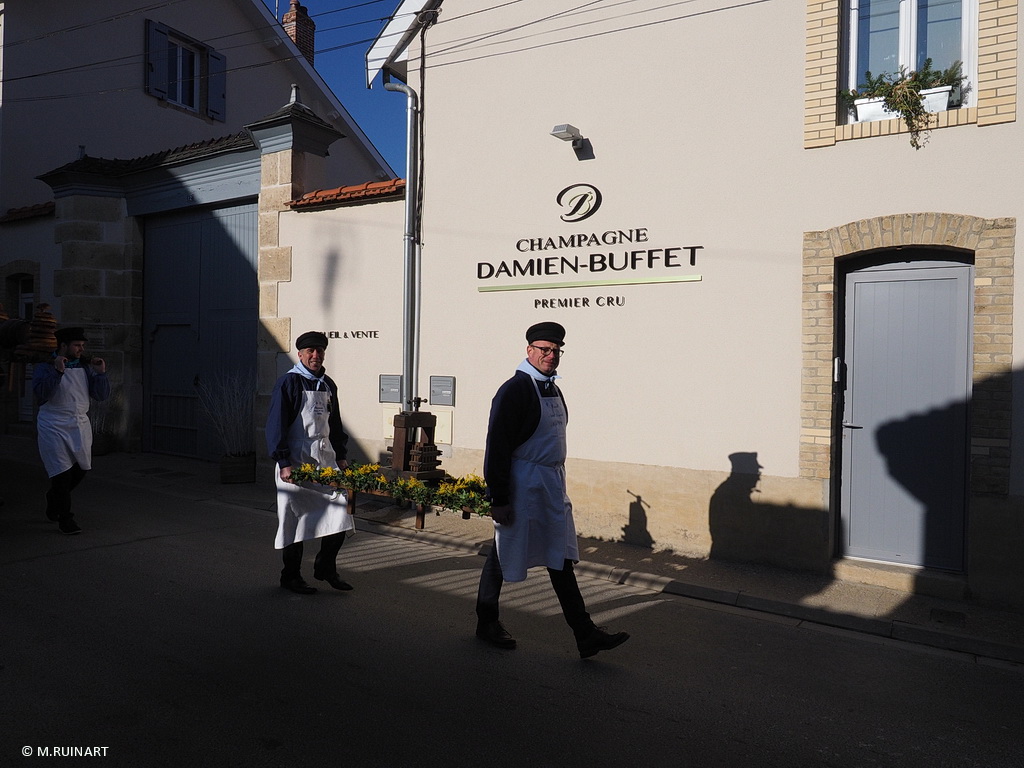 The procession pass in front of Champagne DAMIEN-BUFFET cellar,and then to the cooperative who it'll have exchange of the stick to an other winegrower for this year and to award diplomas and for a champagne tasting. Cheers !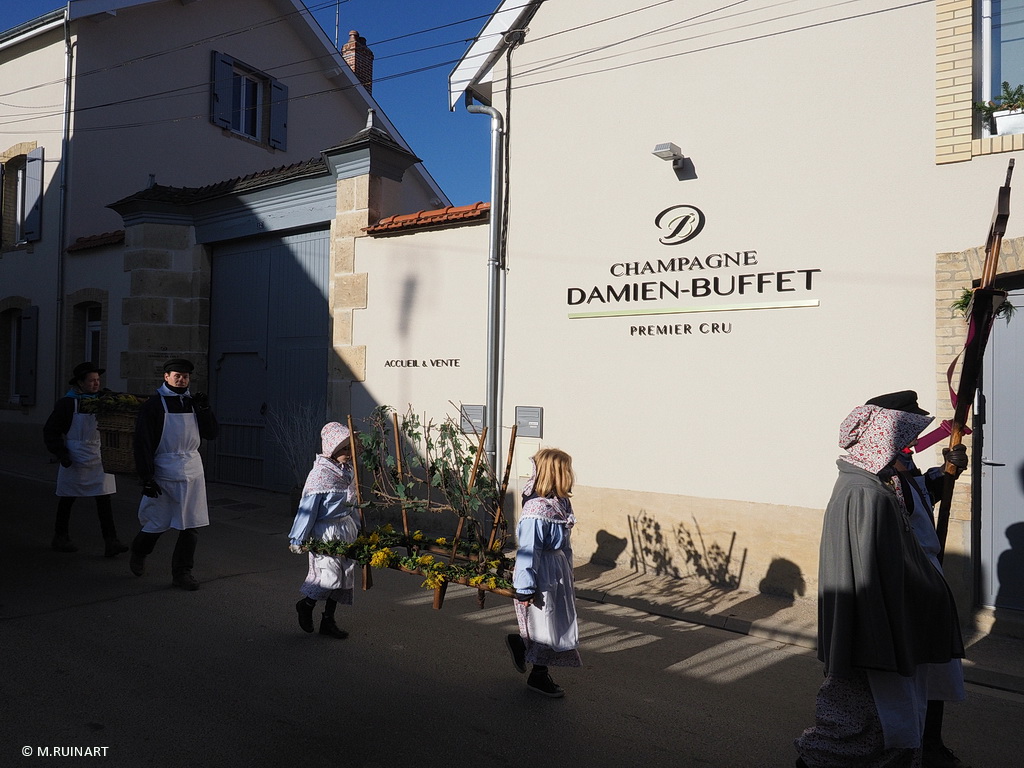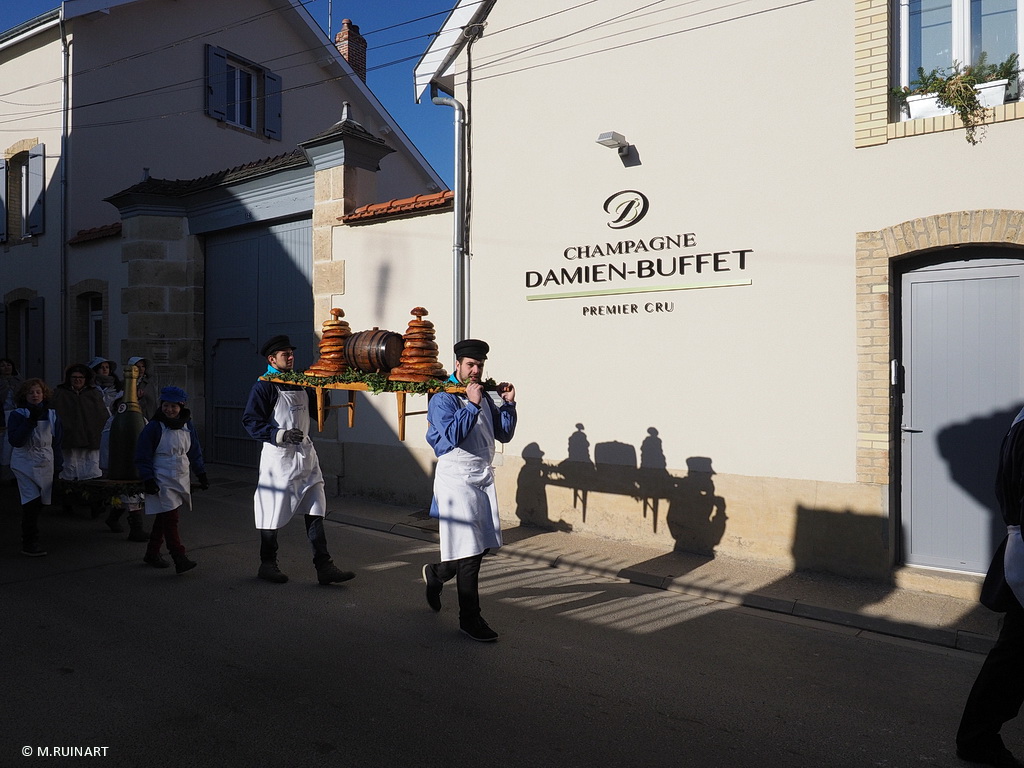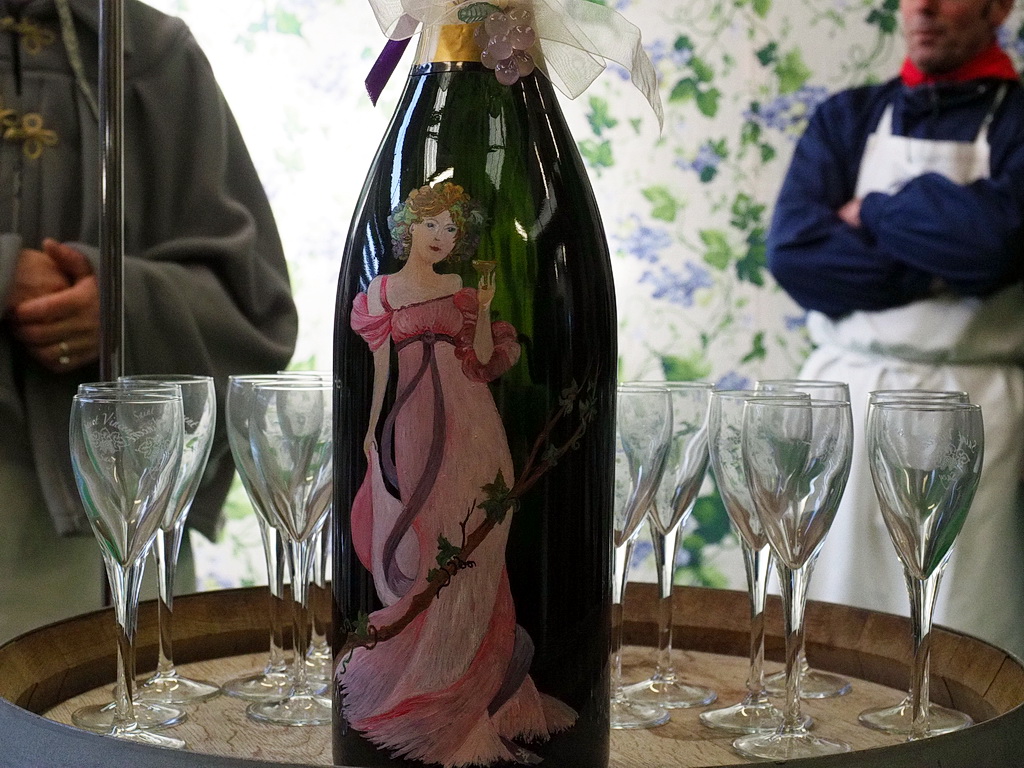 It's a pleasure to share our traditions and terroirs of Champagne.
Véronique & Henry Damien
Cellar of the House of Champagne Damien-Buffet
12 Châtillon's street
51500 Sacy, France
Phone or SMS : +33 (0)3 26 05 98 17 ou +33 6 08 93 66 87
Email : champagne.damien.buffet(at)wanadoo.fr
Twitter & Pinterest : @champagneDBSacy
Enregistrer
Enregistrer
Enregistrer
Enregistrer
Enregistrer
Enregistrer
Enregistrer
Enregistrer
Enregistrer